Ohio Manufacturing Month came to an end Friday. But I'm continuing the celebration, giving you a chance to win a copy of a New York Times Best Seller, Factory Man
, authored by a product of Champaign County, Ohio – Beth Macy.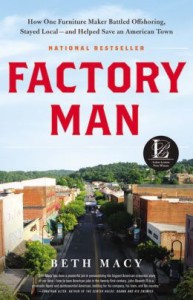 To enter, all you have to do is leave a comment below. I'll announce the randomly selected winner here November 10.
Beth, a 1982 Urbana High School graduate, returned to Urbana in August for a book talk and signing at the Champaign County Library. The library meeting room was packed with Beth's high school classmates, family, friends, her high school English teacher, Margaret Tabor, community members, and yours truly. I was managing editor of the Urbana Daily Citizen when she interned there.
Upon release in July, Factory Man, Beth's first book, became an instant best seller, welcomed by rave reviews including a tweet from actor Tom Hanks: "Great Summer Reading. I give it 42 stars. No, I give it 142 stars. It's THAT good."
And that was no idle tweet. Hanks' production company, Playtone, is developing Factory Man as an HBO miniseries.
Recently, Publisher's Weekly selected Factory Man for its Best Books of 2014 list.
Well researched and entertainingly told, Factory Man chronicles the rise and evolution of the Bassett furniture dynasty and John Bassett III's determined fight against globalization and offshoring to save his Virginia-based furniture company, his employees' jobs and his town.
Back in Beth's hometown, and across the country, manufacturing is on the rebound from the Great Recession. Manufacturing employment in Champaign County, at 3,700 in 2001, hit a low of 2,373 in 2010 before rising to 3,487 this year. That number could be higher if manufacturers – in Champaign County and throughout the U.S. – weren't having such a difficult time finding enough qualified candidates for skilled, high-tech positions. (Local efforts have been launched to introduce students to manufacturing careers.)
In this video, produced by the Alliance for American Manufacturing, Beth (whose mother worked for Grimes Manufacturing in Urbana) talks about the significance of American manufacturing.
For a chance to win a copy of Factory Man, don't forget to leave a comment below – by 8 a.m. EST Nov. 10.

For instance, what is your favorite U.S.-made product? Or tell us about your experience in manufacturing (while in college I made fireplace inserts on an assembly line). Or tell us about your favorite job in any setting.