Carmazzi's Deli & Candy Store, the oldest retail business in downtown Urbana, Ohio, recently ended a 121-year run of family ownership.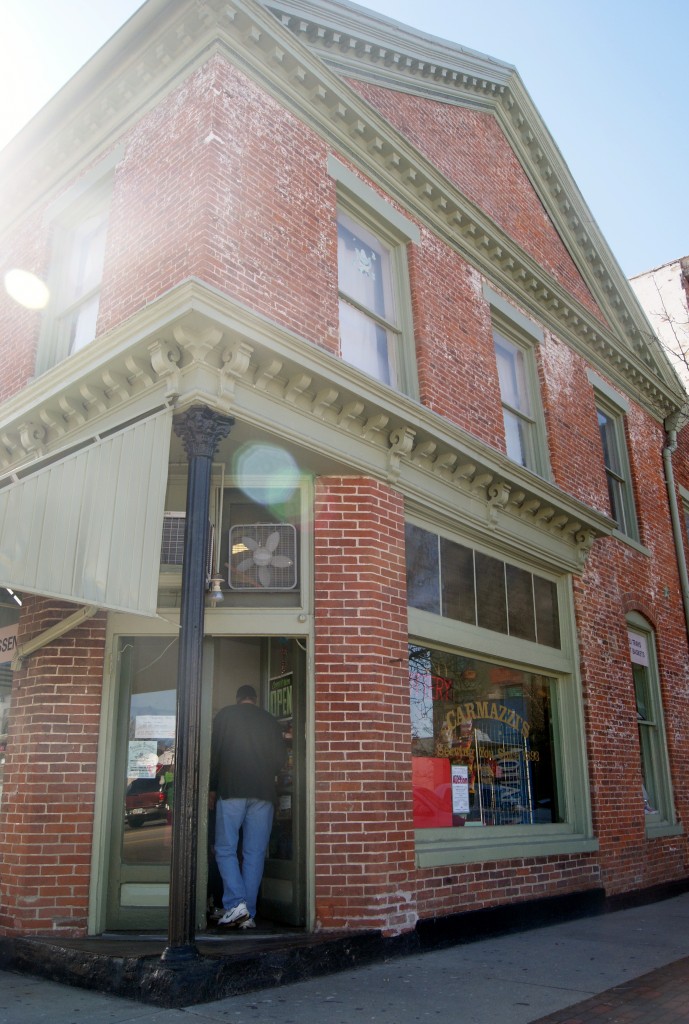 However, a ribbon cutting at noon Saturday, April 26 – and grand reopening celebration from 11:45 a.m. to 8 p.m. – will mark the beginning of a new chapter in the business's continuing tradition. More about the celebration at the end of this post.
Jeff Donay, who recently bought Carmazzi's from third-generation owner John Carmazzi, has made a few updates to the store with new store manager Nanette Hagan. New paint. Rearranged shelving and merchandise. And some new offerings that you'll find at the grand reopening.
And Much Is Unchanged
There's still the bountiful selection of candy that's attracted kids and young at heart for many years. The store still offers special order fruit baskets. And the iconic gold "Carmazzi's" lettering, seen by generations, is still arrayed in an arc on the window of downtown Urbana's oldest building. The red brick Federalist-style structure has anchored the southwest corner of the town square since 1811. For a brief stint it served as military headquarters during the War of 1812.
John Carmazzi is thankful to have found someone to continue the tradition. "Jeff Donay likes the history of it," John said. "I sold it to the right person…. And it's so good that we have so many people who appreciate our downtown and want to keep it going."
Donay, a chiropractor who opened his practice in Urbana in 1991, had been looking for property to invest in. He thought he had found one, but suddenly it sold. "Maybe God had other plans," he said.
Along came the Carmazzi's building, and he knew he had found more than a property investment.
And he knew just the person to manage the store.
When Nanette Hagan came into his office for an appointment one day, he asked her what she thought of the idea. "Her eyes lit up," he remembers.
Dream Fulfilled
"It's always been a dream of mine to have a food establishment – an outlet for my different talents and creativity," she said. She runs a catering and baking business, Nanette's Country Kitchen, and often shares her creations with Dr. Donay's staff. (Check out her cookbook.)
During the grand reopening celebration she'll begin selling her sandwiches and salads at Carmazzi's – along with ice cream from Young's Jersey Dairy of Yellow Springs.
Hagan fondly remembers the candy store two doors from her grandparents' house when she was growing up in Iowa. "It was the coolest thing. They would give me a quarter, and I'd walk over by myself and fill a bag. That's the kind of tradition I want to continue here."
In Good Hands
For John Carmazzi, the transition is bittersweet. But he's relieved the store is in good hands. At 80, he had become concerned about Carmazzi's future. While his niece Janet Todd continues to work there, no one in the family was ready to take over the reins and continue what John's great-uncle, Sam Bianchi, started in 1893, as Bianchi's Fruit Store.
John's father, Frank, and mother, Victoria, Mr. Bianchi's niece, bought the business in 1931, giving it their name – and hours of hard work. They would clear $5, on a good day, during the Great Depression. They ran the store together until Mr.Carmazzi's death in 1944. John, his brother, Bob, and sister, Rosemary, grew up working alongside them. Two subsequent generations have also worked in the store.
John, who started waiting on customers before he could see over the counter, acquired the store from his mother in 1952.
Now, as the tradition continues, the store will pay tribute to its heritage with a display that includes an old cash register and scales brought out of storage, as well as photos and other memorabilia.
Grand Reopening and Ribbon Cutting
Be sure to be in on the celebration of Carmazzi's grand reopening Saturday, April 26, 11:45 a.m. to 8 p.m. Ribbon cutting at noon.
Grand Reopening Specials: First 100 children through the door on Saturday will receive a free piece of candy. A free small bag of chips or can of pop with every salad or sandwich purchase through May 3.
Location: 100 S. Main St., Urbana, Ohio
Phone: 937-653-7443
New Store Hours
Sunday-Thursday: 10 a.m. to 8 p.m.
Friday and Saturday: 10 a.m. to 10 p.m.
Carmazzi's: A Taste of Ohio Folklore
The Ohio State University Center for Folklore Studies includes Carmazzi's in its FolkOhio Archives. Stroll through the online archives, and you'll find other familiar local treasures – from Freshwater Farms of Ohio to Mumford's Potato Chips and Crabill's Hamburgers.
For a previous Champaign Uncorked! post about Carmazzi's, click here.