Caravan Music Series Begins February 10 in Urbana, Ohio
You live in Champaign County, Ohio. You want to hear live music. Where do you go?
"Maybe Dayton, Columbus. I've driven as far as Cleveland for a concert," says Tyler Lookabaugh.
But Tyler wants more local options for music lovers like him. And for people like him who desire a strong sense of community right at home, in Champaign County – where he grew up, went to school (Urbana High School class of 2010), and continues to live (with his wife, Lacie) and work (as a service and support administrator for Champaign County Board of Developmental Disabilities).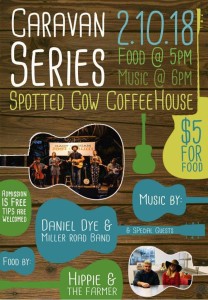 That's why he came up with the Caravan Music Series, which will debut Saturday, Feb. 10, 5 to 8 p.m. at the Spotted Cow Coffeehouse, 927 N. Main St., Urbana, Ohio (scroll down for an at-a-glance summary of the event).
Each edition of the series will feature acoustic sets, showcasing local talent playing a variety of genres. "I want people to hear what our county has to offer. And I want people to feel a part of that – that, yeah, this is our community."
Plus, he wants to make the music series accessible. Admission is free. Tyler encourages tipping, though. Food and refreshments will be available for purchase from local vendors.
The music line-up for Feb. 10 includes:
The Caravan Folk Trio, blending early jazz and folk in the gypsy jazz style of Django Reinhardt.  Featuring Tyler Lookabaugh on upright bass, Chad Reisinger on guitar and Ellie Blanton on violin.
The American Landscape, an indie folk band from Springfield, led by Thad Williams on lead vocals, rhythm guitar and banjo.
Daniel Dye and the Miller Road Band, a folk group that's no stranger to Champaign County or Champaign Uncorked! (see here, here and here. DD & MRB hosts an annual music festival, the Madden Road Music Fest, near Mutual. (By the way, Ellie Blanton of the Caravan Folk Trio is Daniel's niece and cousin of the Miller Road Band members – just part of the local Dye Dynasty of musicians.)
Back in November Tyler put out a call on Facebook for thoughts on his dream for an outlet for local musicians. One of the first responses came from Pam Bowshier of local food vendor and caterer Hippie and the Farmer, which already sets up at local music festivals. She and Hippie and the Farmer partner, Mark Runyan, will serve up pasta dishes, including a vegetarian option. Plus, the Spotted Cow will offer coffee drinks and desserts.
And thanks to lots of recommendations for venues, musicians and food vendors, Tyler is developing plans for upcoming Caravan Music events. Stay tuned!
Caravan Music At-a-Glance
When: Saturday, Feb. 10, 5-8 p.m.
Where: The Spotted Cow Coffeehouse, 927 N. Main St., Urbana, Ohio
Dinner: By Hippie and the Farmer, $5 per plate, starting at 5 p.m., featuring locally grown and produced food, including a vegetarian option
Coffee and Desserts: Available from the Spotted Cow
Music: Starting at 6 p.m., with the Caravan Folk Trio, The American Landscape and Daniel Dye and the Miller Road Band
Admission: Free, but tips for the chefs, artists and baristas are encouraged!
Parking: In front, behind and on the south side of the Spotted Cow. And thanks to W Productions, next door to the Spotted Cow, which is allowing Caravan Music guests to park in front of their building Saturday evening.
Other local music options in Champaign County, include:
The Ohio Fish and Shrimp Festival
Madden Road Music Fest
Concerts in the Park, coordinated by the Champaign County Arts Council
Mad River Farm Market, which schedules bands throughout the year
What are your favorite Champaign County area music groups?