I'm Gary Schenkel , a freelance copywriter and content writer who's living the dream and authoring Champaign Uncorked!  in Urbana, Ohio.
Through my freelance writing business, Gary Schenkel, Freelance Copy and Content Writer, I help businesses and other clients clearly tell their stories online and in print – in marketing materials, case studies, customer success stories, newsletters, news releases and more.
Before venturing into freelance business-to-business writing, I worked:
Seven years with the Urbana Daily Citizen, as reporter, agriculture editor and managing editor—jobs that immersed me in all things Champaign County.
Three years in public information at Ohio Northern University in Ada, Ohio.
Fifteen years with Mercy Health Partners-Western Ohio, in Urbana and Springfield, in marketing, public relations, physician recruitment and grant writing.
Champaign Uncorked! is all about celebrating  Champaign County, Ohio. However, I try to do more than sit back and celebrate. I worship with my family at the Urbana United Methodist Church, where I help with communications projects, sing in the choir, start the work week at the 6 a.m. Monday men's Bible study, and assist with the Gloria Theatre renovation project, which our church took on to support our community, culturally, socially, economically and spiritually.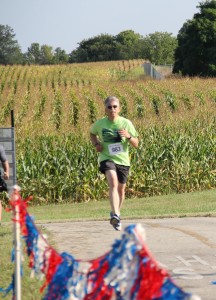 I've turned one of my favorite pastimes, running, into a volunteer endeavor helping the Simon Kenton Pathfinders. The Pathfinders develop and maintain the Simon Kenton Trail bike path, which links Champaign County to a network of multi-use trails.
And I help support the economic health of the community as records manager for the Champaign Economic Partnership, Champaign County's economic development agency.