Champaign County's in a great location—a short drive from two metropolitan areas. For instance, just 45 minutes to Columbus' Jazz and Rib Fest, which I enjoyed two weeks ago with my son Andy, who lives in Columbus.
Of course, the roads run both ways. And Champaign County has much to offer our urban neighbors—and those of us who live here.
A case in point: the Madden Road Micro Music Fest, which is only micro in size and duration—not in talent.
In its sixth year, the festival is a fun, relaxing escape to the Dye family farm, 1791 Madden Rd., Cable. It's just about a mile and a half north of Mutual, eight miles east of Urbana, or about 40 miles west of downtown Columbus.
Madden Road Music Fest: 2-10 p.m. Saturday, Aug. 13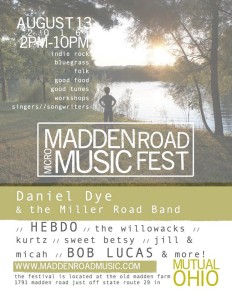 The festival offers nine performances on two stages, delicious food and coffee served by local vendors, three free music and dance workshops, a campfire, walking trails and a mural you can help create.
Hosts Daniel Dye and the Miller Road Band will share the stage with Hebdo, Bob Lucas and Family, the WillowWacks, Jill and Micah, Kurtz, Sweet Betsy and Zach Whitney. And Daniel Dye will be joined on stage by sister Sarah Kelly, the driving force behind the festival.
Workshops include Folk Tunes with Bob Lucas and Family, Folk Dancing with the Millers and Banjos with Paul Race.
Vendors include Hemisphere Coffee Roasters of Mechanicsburg;, Oakview Farm Meats and Cosmic Charlie Breads of Urbana, who will serve pizza and sandwiches; and Madden Farm Food.
For the complete schedule and details, visit the Madden Road Music Fest Facebook page.
Here's an audio preview of the festival, broadcast on WYSO radio, including a few tunes performed in the studio by Daniel Dye and the Miller Road Band.
And here's a video from Joey Hebdo, who will perform at 9:15 p.m.
And "Can't Stop This Love" by Daniel Dye and the Miller Road Band
And Other Events to Enjoy in August
175th Champaign County Fair, Aug. 5-12
One of the best, if not the best county fairs in Ohio, August 5-12.  Here's a link to the 2016 fair book and schedule.
The Great Gatsby at Piatt Castles, Aug. 5 and 6
F. Scott Fitzgerald's epic story of love and lust performed by Sansami Creative Works at Piatt Castles, 10051 Twp. Rd. 47, West Liberty. Doors open at 7:30 and the show begins at 8 p.m., August 5 and 6. All tickets $10.
Rock the Lake 2016, Aug. 6 and 7
Crowder headlines this annual Christian concert started by Shine FM in 2015 at at Old Field Beach at Indian Lake State Park. New this year, a triathlon on Saturday morning and a community church service Sunday morning.  Also the Logan County Art League is hosting an art show on the beach Saturday, 10 a.m.-5 p.m. and Sunday, noon-5 p.m.  Visit Shine FM for more information.
Concerts in the Park
Two performances remain in the Champaign County Arts Council's free summer concert series. Both shows will begin at 6 p.m. at Harmon Park in St. Paris:
August 14 – The Average Wright Band
August 28 – Trombones Plus