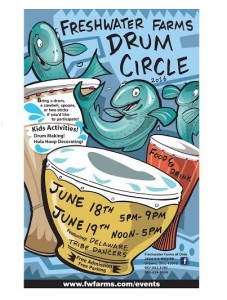 Freshwater Farms of Ohio, host of the popular Ohio Fish and Shrimp Festival, has come up with a new way to celebrate. And I'm looking forward to it.
The Freshwater Farms Drum Circle will be held Saturday, June 18, 5-9 p.m., and Sunday, June 19, noon-5 p.m. at the farm, 2624 N. U.S. 68, Urbana.
It's a free event where guests like you, your family and friends are encouraged to bring drums, cowbells, a pair of sticks, spoons or any other percussive instruments you can find. I plan to bring my old, gold Slingerland snare, from the used drum kit I bought back in my high school days.
Everyone will join in a rhythmic jam session—a drum circle—encircled by beautiful countryside. And there'll be dancing and hula-hooping to the ever-changing beat.
Freshwater Farms has invited some special guests:
The Asunameekw Singers Drum Group of Bucktown, Ontario, Canada
Lunaape blues artist Brock Stonefish of the Delaware Nation, Ontario, Canada
Storyteller Chief Cedarheart of Turkey Town Village in Cardington, Ohio
Also planned are kids' activities that include drum making and hula hoop decorating.
And I can't forget to mention there'll be good food and drink for purchase: fish and chips, jambalaya, brats, hot dogs and a variety of nonalcoholic beverages, as well as craft beers and wine.
For more information, visit Freshwater Farms' Drum Circle web page.
What's a Drum Circle?
Drum circles are rooted in Asian, African, Native American, even American '60s, culture. And they're widely used in music therapy and team building exercises.
In drum circles, participants improvise, creating an interplay of rhythms. There's no wrong or right way. And it's for everyone, regardless of musical experience and talent. The rhythms grow and change as everyone—young, old and in between—enjoys the shared experience.
Watch the following videos to learn more about the drum circle experience. And be sure to experience it yourself this weekend at the Freshwater Farms Drum Circle.