Here are Champaign Uncorked's picks for bringing summer 2015 to an entertaining close:
Champaign County Fair, August 7-14
Summer is incomplete without Champaign County's main event—one of Ohio's best county fairs, if not the best. For this one week, activity gravitates to the fairgrounds. Everything else seems to slow down. And once it's over, the start of a new school year is right around the corner.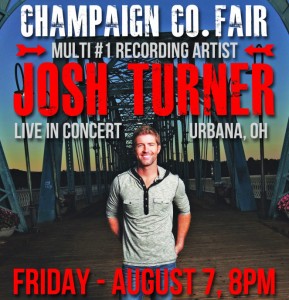 So take time out to enjoy the food, the junior fair exhibits, livestock shows, local business booths, midway and just getting together with the rest of Champaign County.
Highlights for this year include the Josh Turner concert at 8 p.m. Friday, August 7, in the grandstand, and the crowning of the junior fair queen, awarding of 4-H boy and girl of the year and FFA boy and girl of the year, and pig and calf scrambles, beginning at 6:30 p.m. Sunday, August 8, at the grandstand. Click here for a complete schedule and details. The fairgrounds is located at 384 Park Ave., Urbana.
This annual micro music fest is a hidden gem that's well worth finding—in the great wide open of rural Champaign County, Ohio, at 1791 Madden Road, about a mile north of Mutual.
Hosted by Daniel Dye and the Miller Road Band—a folk group with deep local roots—the festival will include nine other folk, bluegrass and indie rock acts, from 2 to 10 p.m., including William The Accountant, Hebdo, The Florals, Jill & Micah, Bob Lucas & Friends. The Zach Whitney Show, Matt Monta, The Great Wide Open and Trudi Kurtz and Joelle Hochstedler. Here's the schedule.
Last year, bands played on a stage nestled in a pine grove, by a pond. This year's festival offers a second stage, in an oak grove.
Along with local music the festival will serve up a good helping of local food and beverages from Oakview Farm Meats, Cosmic Charlie Baking and Bread's Pizza My Heart Pizza by the Slice, and festival partner Hemisphere Coffee Roasters.
All day general admission, $10; $25 family admission; and $5 for seniors and students.
Here are a couple of past Champaign Uncorked! posts about the Madden Music Fest in its other venue, Mutual's former town hall:
Madden Road: A New Crossroads for Music
The Hall Was Alive with the Sound of Music
And for extra measure, here's a link to one of my favorite Daniel Dye and the Miller Road Band tunes, "Can't Stop This Love."
The 49th annual Mid-Eastern Regional Fly-in (MERFI), will feature an air race, airplane rides, pancake breakfasts, outdoor movies, classic car and hot rod cruise-in and live music. All at Urbana's historic and active Grimes Field airport, starting at 5 p.m. Friday, August 21 and ending at 1 p.m. Sunday, August 23.
Admission is $5 per person. Children under 12 are free. For more information, visit the MERFI website.
A Summer Challenge, through September 30 
If you haven't already, take part in the Naturally Ours, Rarely Seen Summer Challenge—and discover and enjoy some of Champaign County's natural and recreational wonders.
The program, created by the Champaign County Chamber of Commerce and members of the Chamber's Leadership Champaign program, offers prizes for visiting three, five, seven or all nine featured sites. Examples of prizes: discount admission to Ohio Caverns and Cedar Bog, a free disc golf disc and a chance to win a free night of camping at any Ohio state park.
For details, visit the Naturally Ours, Rarely Seen Facebook page.
The featured destinations include Kiser Lake State Park and Wetlands, Davey Woods, Siegenthaler-Kaestner Esker, Simon Kenton Trail, Pointe North, Mad River, Cedar Bog Nature Preserve, Ohio Caverns and the Urbana disc golf course at Urbana's Melvin Miller Park. Only three Ohio counties have more nature preserves than Champaign County.
To participate, post your visits on the Naturally Ours, Rarely Seen Facebook page.
Prizes must be claimed by September 30 at the Chamber of Commerce, 107 N. Main St., Urbana (937-653-5764).