Though the Champaign Uncorked! Bucket List may be off to a late start for July, you'll still find many opportunities to enjoy Champaign County to the fullest. And here are a few samples:
Urbana Community ParkFest!, July 10 and 11
About 55 years ago, Urbana was gifted with a 120-acre playground, which we know today as Melvin Miller Park. This weekend during ParkFest! you and your family  have the opportunity to celebrate this treasure to the fullest.

The Urbana Parks and Recreation Department, with the help of generous sponsors, has packed a day and a half, beginning 6 p.m. Friday, with fun activities and events … live music, sports tournaments (disc golf, sand volleyball, tennis and basketball, to name a few), pool parties, a fishing derby, dunk tank, rock climbing wall, inflatables, tethered hot air balloon rides…. For complete details, check here and here. And for a little history on the park, click here.
Mechanicsburg Summer Celebration, July 11
Mechanicsburg will celebrate summer with a festival Saturday that includes a parade at 3 p.m., a vintage baseball game at 4 p.m., an apple pie contest, a concert by the Average Wright Band at 7:45 p.m., and fireworks at dusk. And ice cream and cake will be served 6 to 8 p.m. to celebrate Goshen Township's 200th anniversary. Check for more details here and on the Our Towne Mechanicsburg Facebook page.
"Who Am I This Time? (& Other Conundrums of Love)," July 10-12
This latest production at the Gloria Theatre, 216 S. Main St., Urbana, is a play presented by Sansami Creative Works and adapted from three short stories by Kurt Vonnegut. Shows are scheduled Friday, July 10 and Saturday, July 11 at 7:30 p.m. and Sunday, July 12 at 2:30 p.m. Tickets can be purchased at the door or in advance by clicking here.
Missoula Children's Theatre Open Auditions, July 13
The Missoula Children's Theatre is making a stop in Urbana at the Gloria Theatre, Monday, July 13, to audition kids, grades K-9, for a production of "Blackbeard the Pirate," to be performed at the theater Friday, July 17 and Saturday, July 18. Auditions will be held Monday 10 a.m. to noon. For details, call Lydia at 937-612-1651 or email lydia@grandworks.com.
To keep up with the latest at the Gloria Theatre, visit and like the GrandWorks Facebook page.
Week of Hope, July 11-18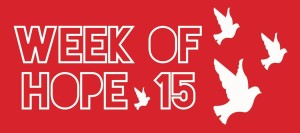 Here's a chance to help our neighbors. Week of Hope, coordinated by several local churches, provides a variety of opportunities to serve our community, including home repairs, meals, a pool party and a community worship service. For details, check the Week of Hope Facebook page and click here for a schedule.
Art Affair on the Square, July 18
Celebrate Urbana's artistic side from 10 a.m. to 6 p.m. Saturday, July 18 in historic downtown Urbana. Sponsored and organized by Monument Square District, this festival—now in its 11th year–attracts artists and visitors from across Ohio and beyond.
Artists will display and sell their works under dozens of white tents. The festival also features performing arts, children's art activities, architectural tours, exhibits and literary arts. And downtown specialty shops and restaurants will be open to add to the festivities. For more, visit the Art Affair on the Square Facebook page.
Leading up to Art Affair, the Champaign County Arts Council, 119 Miami St., will host a reception in memory of local artist Paul Reif, Friday, July 17, 6-8 p.m. His work also will be on display in the Arts Council Gallery during Art Affair and during normal business hours, 9 a.m.-1 p.m., July 13-24.