We're just a little more than a week away from the start of summer. Farmers' markets are in full swing. And the Champaign Uncorked! Bucket List is here to recommend a sampling of the many exciting local Champaign County activities to try out in June. Some are brand new. Others are tried and true.
So, here goes…. 
Rock the Monument 4 Miler/1.5 Mile Fun Walk, June 12
Get a running start into the weekend in this new fundraiser to support Monument Square District's (MSD) mission to develop and enhance Urbana's historic downtown.
I'm already registered, and you can still sign up beginning at 5:30 p.m. Friday, June 12 at Urbana's Melvin Miller Park, 731 Children's Home Rd. Start time is 7 p.m. Registration is $25 for the Four Miler. The fun walk is free, though registration is required. Donations to support MSD will be accepted.
By the way, all participants registered for the Four Miler will receive a weekend pass to the next event on the Bucket List, the Rhythm & Foods Festival….
Rhythm & Foods Festival, June 12 and 13
Whether or not you worked up an appetite running four miles around Melvin Miller Park, here's another not-to-miss, first-time event.
A surefire success, thanks to the rising popularity of food trucks, Rhythm & Foods brings together more than 50 food trucks and vendors, craft beers and seven country rock bands at the Champaign County Fairgrounds, 384 Park Ave, Urbana.

A $5 weekend pass—covering Friday and Saturday—includes admission to all seven shows—including Urbana's own Acoustic Justice and long-time regional favorite McGuffey Lane.  Tickets are available only at the gate, which opens at 4 p.m. Friday and 10 a.m. Saturday.
Visit the festival website for a complete band schedule, listing of food trucks and other features, including a Robert Rothschild Farm products warehouse sale.
Kudos to Dave and Darcy Bacher of St. Paris for creating and organizing this event.
For more information, read this article from the Urbana Daily Citizen.
Military Appreciation Day, June 13
This event at Urbana's Grimes Field airport, 1636 N Main St, will honor veterans in conjunction with the 50th anniversary of U.S. ground troops arriving in Vietnam.  The event is co-sponsored by DAV Chapter 31 and VFW Post 5451.
The all-day tribute will feature 13 Vietnam-era aircraft, including flights in Cobra and Huey helicopters (for a fee), an air show, military vehicles, music, a beer garden, and pancake breakfast beginning at 7:30 a.m. The day will conclude with a 5 p.m. tribute to 10 Champaign County natives who gave their lives in the Vietnam War.
Admission is only $1 and free for veterans. Shuttle service will be provided between the airport and the Rhythm & Foods Festival.
For details, read this article from the Urbana Daily Citizen.
A Champaign Uncorked! salute to Dave Millner and Jim Bob White, who conceived the idea for the appreciation day and planned it.
Volunteer at the Gloria Theatre, June 16 and 17
And here's your opportunity for an intimate, participatory theatrical experience: Volunteer Tuesday, June 16 and/or Wednesday, June 17 from 6:30 to 9 p.m. to help prepare the stage of The Gloria Theatre for "Spotlight, Tonight" (see next Bucket List item) and other productions.
No auditions. Just show up, ready to work at The Gloria, 216 S. Main St., Urbana, and you'll be handed a role and the tools to carry it out–perhaps a drill, a broom, a hammer.
To learn more about how you can support the ongoing restoration of the Gloria Theatre, as a volunteer and/or financial contributor, visit the GrandWorks Foundation website.
Spotlight, Tonight!, June 26
This original sketch comedy show will take the stage at 7:30 p.m. at Urbana's Gloria Theatre, 216 S. Main St.  A production of Sansami Creative Works of West Liberty, the show is written by community members and directed by Lucas Keeran with assistance from Thoryn Johnson.
Presale tickets for the show can be purchased for $7 at the Gloria Theatre during office hours. Tickets will be available at the door the day of the show $10 for adults and $7 for senior citizens and students.
Part of the proceeds will support the GrandWorks Foundation, which is restoring the Gloria Theatre.
CCPA Historic Home & Garden Tour, June 27 and 28
This annual fund-raising event of the Champaign County Preservation Alliance enjoys a long run of success—23 years—shining the spotlight on Champaign County's historic architectural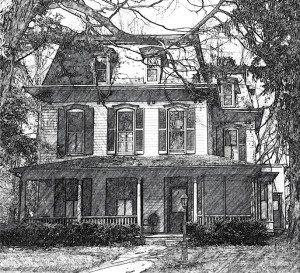 treasures, including homes and business properties, as well as gardens.
This year's tour, 11 a.m. to 5 p.m. both days, features 12 stops in Urbana, including a house currently being restored, the Johnny Appleseed Musem at Urbana University and the Market Street Community Gardens. (You can say hi to my wife, Kay, who will be volunteering at the Little Wedding Barn, 228 S. Kenton St.)
Tickets are available for $10 presale, or $12 during the tour–available at any stop on the tour or at the white tent behind the Urbana Municipal Building, 205 S. Main St. Tour is free for children under 12. Click here for presale ticket locations. Free shuttle service is available from stop to stop.
Farmers' Markets
Through the end of the season, these three local farmers' markets will offer a wide range of locally grown foods as well as locally made food products, including baked goods:
The Mechanicsburg Farmers' & Artisans' Market — Tuesdays, 4:30-7 p.m. at the Heritage Cooperative, 140 S. Main St., Mechanicsburg, Ohio
St. Paris Farmers' Market – Fridays, 2:30-6 p.m., Municipal Building, 135 W. Main St., St. Paris, Ohio
Champaign County Farmers' Market – Saturdays, 9 a.m.-1 p.m., Locust Street at the corner of East Market Street, behind the Urbana Fire Department.
What other events would you recommend?