In this month of Thanksgiving, welcome to the third installment of the Champaign Uncorked! Bucket List. Here goes with a sampling of the ways to celebrate the season and the goodness Champaign County has to offer.
Celebrate the Season!
Holiday Open House Weekend, Friday, Nov. 7-Sunday, Nov. 9 – Beat the hectic pace of Black Friday shopping. Support the local merchants of Urbana's charming downtown Monument Square District and discover the one-of-kind presents and hospitality they keep in store. Downtown shops will be open Friday, Nov. 7, 10-8; Saturday, Nov. 8, 10-6; and Sunday, Nov. 9, 1-5.
And take a shopping break at one of downtown Urbana's fine, locally owned restaurants. Check out Monument Square District's Facebook page for updates on what stores have to offer.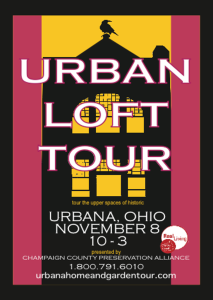 Urban Loft Tour, Saturday, Nov. 8 – Ever wonder what's above the shops in downtown Urbana? Satisfy your curiosity while you're downtown Nov. 8 for the Holiday Open House. The Champaign County Preservation Alliance (CCPA) will take you on a tour of the upper stories of seven downtown buildings, 10 a.m. to 3 p.m.
The day of the tour, tickets will be available at the Stage Building, 38 Monument Square, and the Urbana Cinema/Gloria Theater, 216 S. Main St., which is on the tour Prior to that, tickets are available at the Champaign County Chamber of Commerce, Champaign Bank, Peoples Savings Bank, Perpetual Savings Bank and Security National Bank. The $12 ticket cost will support CCPA's historic preservation work.
For more information, visit the Loft Tour pages of the CCPA's Home and Garden Tour website.
Make a Gingerbread House at the Library, Saturday Nov. 22 – The Champaign County Library offers children two opportunities to decorate a gingerbread house:
At 10 a.m., hosted by the Friends of the North Lewisburg Branch Library, at 161 Winder St., North Lewisburg
At 2 p.m., hosted by the Friends of the Library at the main library at 1060 Scioto St., Urbana.
Register by Nov. 19 for either program by calling 937-653-3811.
Thanksgiving Morning Walk –
 The
Champaign Family YMCA
invites the community to meet outside the west entrance to the First Presbyterian Church, 116 W. Court St., Urbana, for a time of thanks and a short walk, which will begin at 8 a.m. Thanksgiving, Nov. 27. Paul Waldsmith, CEO of the Y, and Jennifer Post, health enhancement director, will lead the walk and offer participants their choice of a 15-minute walk route or a 1-mile route.  The walk will be held  no matter the weather.  Participants are asked to bring a non-perishable food item for local food pantries.  "This is not a competition, just a way to give back to our community," Waldsmith explains. For more information, call the Y at 937-653-9622.
Community Thanksgiving Dinners – Community members have three opportunities to give thanks by volunteering, donating food and enjoying Thanksgiving dinner together:
Caring Kitchen, at 300 Miami St., Urbana, Thanksgiving Day, Nov. 27,  needs volunteers and food donations for its annual Thanksgiving dinner for residents of the Urbana, Mechanicsburg, Triad and West Liberty-Salem school districts. Serving from 11 a.m. to 12:30 p.m., with carryout and home delivery beginning at 10:30 a.m. Call 937-653-8443 by Nov. 15 to volunteer or make donations or by Nov. 24 to schedule a delivery. Individuals planning to dine in or pick up a meal also are encouraged to call ahead to ensure enough food is available. Meals will be delivered to the sheriff's office and local police and fire departments.
Graham Elementary School, 9644 U.S. 36, St. Paris, Thanksgiving Day, Nov. 27 – community dinner, noon to 1:30 p.m., coordinated by the St. Paris Federation of Churches. Dine-in, carryout and delivery will be available. Call the St. Paris First Church of God at 937-663-4441 to request delivery or to volunteer to help prepare the meal, serve, deliver and clean up. Monetary and food donations are welcome.
Mechanicsburg Community Dinner, Saturday, Nov. 15, hosted by Mechanicsburg Exempted Village Schools, 60 High St., Mechanicsburg, in honor of Mechanicsburg's bicentennial celebration. Guests are to arrive 5 to 5:30 p.m. in the Commons. Pow wow dancers will perform following the dinner. 
Details for these dinners are available on the Urbana Daily Citizen website.
Music in the Air
Veterans Day Dinner and Dance, Saturday, Nov. 8 – Amid historic aircraft and World War II memorabilia, this dinner and dance at the Champaign Aviation Museum, 1642 N. Main St., Urbana, will take you back to the days of USO dances. Featuring the Bob Gray Orchestra, this dinner and dance is presented by the Champaign County Arts County with support from the Champaign Memorial Foundation. Social hour begins at 5 p.m. and dinner at 6 p.m. with music and dancing to follow. Tickets $20. For information, contact the Arts Council, 119 Miami St., 937-653-7557. 
The Castros and Get in the Ark at Spotted Cow Coffeehouse, Saturday, Nov. 15 – Urbana's newest coffeehouse, The Spotted Cow, at 927 N. Main St., will host these two popular Columbus indie folk bands in a free concert at 6:30 p.m. Nov. 15. In Columbus' (614) Magazine ColumBest readers poll The Castros were voted Best Local Band in 2013 and runner up in 2012 and 2014.
Prior to this show, beginning at 4 p.m., local musicians Scott Patrick Knies, Tayler Carpenter, Mark Blair Glunt, Samantha Sanderson and Dylan Glunt will perform. The event also will feature poet Aiyana Marcus and the photography of Dave Millner. Carmazzi's Corner will be the featured business. Food provided by Week of Hope.