A fish and shrimp festival in Ohio?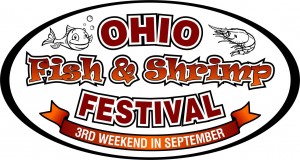 Yes, the Ohio Fish & Shrimp Festival does exist — and I look forward to it every fall.
And fish and shrimp are grown locally by festival host Freshwater Farms of Ohio, just north of Urbana at 2624 N. U.S. 68.
So, the fish and shrimp are fresh and mouth-watering good. The fun and deliciousness begin at 4 p.m. today, Friday, September 19, and continue through Sunday, September 21.
Here's what I most look forward to:
The fish and shrimp dinners served at Freshwater Water Farms' food booth, prepared by The Food Smiths catering business of Gretchen Bonasera, daughter of farm owner Dr. Dave Smith. The festival also features several other food vendors, including other locally grown and produced menu items from Oakview Farm Meats and Cosmic Charlie Baking and Bread.
A fantastic lineup of bands, all three days. There's something for about every musical taste — folk, alternative rock, New Orleans jazz, reggae, rock and country. One of the performers competed on American Idol, wowing judge Harry Connick Jr. in the auditions. And a couple of the bands have released new albums that have earned excellent reviews.
Being out in the country
Following are YouTube links to the bands I'm especially looking forward to:
Here's an excellent review of the Fish & Shrimp Festival published in Dayton City Paper.
In the interest of full disclosure: Freshwater Farms of Ohio hired me through my freelance writing business, Schenkel Communications, to promote the Ohio Fish & Shrimp Festival. This blog post, however, is not sponsored. It's an extra, over and above my paid assignment.
See you at the festival!
What are your weekend plans?