I'm looking forward to a festival-filled fall weekend in Champaign and Union counties.
I invite you to join me at the Ohio Fish and Shrimp Festival at Freshwater Farms of Ohio, just north of Urbana, and the Covered Bridge Bluegrass Festival in Union County – both Friday through Saturday, September 20-22. Click on the links for details.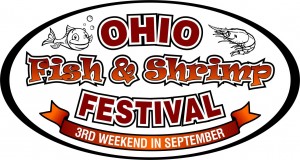 Both feature a hearty selection of live music and good food — and lots of family fun.
Not Your Average Harvest Festival
An unusual fall harvest celebration for Ohio, the Fish and Shrimp Festival marks Freshwater Farm's annual freshwater shrimp harvest with lots of mouth-watering locally grown shrimp, as well as trout grown on the farm, too.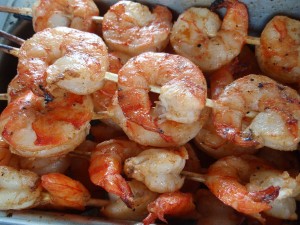 Music on the outdoor stage includes folk, blues, country, rock, reggae — and steel drum. Other features include a shrimp peeling and eating contest, games, self-guided tours of the farm, displays of native aquatic creatures, a chance to pet Ohio's largest native fish, the sturgeon, and the debut of a new habitat for the farm's resident alligator, Fluffy, who made a surprise appearance at the festival three years ago, delivered by sheriff's deputies after they caught her in a local pond.
A Festival That Has It All Covered
Union County's historic covered bridges set the theme for the Covered Bridge Bluegrass Festival. One of  the bridges, the Pottersburg Bridge at 17141 Inskeep-Cratty Rd., North Lewisburg, will serve as the festival's centerpiece and the setting for an elegant sunset dinner, a breakfast and a church service. The bridge also will serve as  the stage for a variety of bluegrass bands and folk musicians.
Other festival features include guided bridge tours, a pie baking contest and auction, a marketplace of antiques and local artists' work, painting classes, a vintage fashion show, old-fashioned games for kids, horse drawn wagon rides, appearances by folk artist Billy Jacobs and a concert by Nashville bluegrass band the Banjo Cats.
See you out and about this weekend.