You know those directories on supermarket shopping carts that tell you where to find the mayonnaise? Pretty handy for the shopping impaired like me.
Now the Local Food Council of the Community Improvement Corporation of Champaign County (CIC) has gone one better. It's come up with a directory — a brochure, actually — that'll guide you all over Champaign County, Ohio, not just down the aisles of a grocery store, showing you where to find the freshest locally grown and made food products.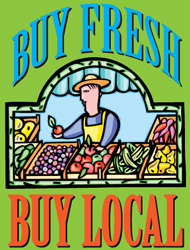 This brochure includes a county map and corresponding list of growers, vendors and farmers' markets, with address, contact information, hours of operation and products … fruits and vegetables, eggs, fish, meats (even bison), honey, dried flowers, garlic, herbs, dog treats, maple syrup, artisan breads, preserves, handmade soaps, lavender, bedding plants, vegetable plants…. And that's not all. Click on the image at left to see for yourself  all the local food treasures that are out there to be discovered and savored.
So, from now on when it's time to write out the shopping list, consult this brochure — not just the grocery flyers and coupons. Take full advantage of what Champaign County farmers have growing. Discover the advantages of buying and eating locally grown food that's at the peak of freshness … better taste, improved nutrition, a stronger local economy, and more.
It's been my pleasure to assist with this project through the CIC and Local Food Council. And many thanks to Lisa Williams of Type by Design, who designed the brochure.
Use it in good health.
Updates will be made periodically. Email corrections or additions for future editions to cic@ctcn.net.