I'll leave it to other bloggers to argue the implications of Tuesday's elections on our local economy.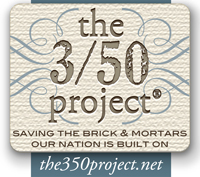 Instead, I'd like to present the merits of casting your dollars for local business. There's no argument as to the stimulating effect shopping at independently-owned businesses has on communities like our own — Urbana, Ohio.
The 3/50 Project®,  a nationwide campaign to encourage consumers to support locally-owned businesses, offers this:
For every $100 spent at a locally-owned business, $68 comes back to the community
Only $43 recirculates from national chain stores
Now's a good time—with the Christmas shopping season upon us—to try this out.
And, it just so happens, the Monument Square District, Urbana's downtown business association, is offering the perfect, festive opportunity for us to discover the growing number of local shopping options we have. This opportunity is Historic Downtown Urbana's Holiday Open House:
Friday, Nov. 5, 10 a.m.-8 p.m.
Saturday, Nov. 6, 10 a.m.-6 p.m.
Sunday, Nov. 7, 1-5 p.m.
Fourteen downtown retail businesses—some new and some well-established landmarks—will all be open during these hours. They've planned a fun, store-to-store celebration–a retail block party–that will help us discover and rediscover all the places we have to shop locally.
Here's a listing of the stores and what they have planned:
ben and me – champagne and cupcakes
Carmazzi's – drawing for a snack gift basket
Country Gentleman – free gift with $15 or more purchase, refreshments, door prizes
Courtney's Cupboard – door prizes, refreshments
Everyday Organics – food product sampling, special discounts
Guild Galleries Interiors & Gifts – specials, door prizes, refreshments
Lily's Garden – refreshments
Little Ones – 10% off children's shoes, coats and winter apparel, bike giveaway, refreshments
My Old Ohio House Antiques – Victorian ornament exhibit
Scioto Street Gallery Antiques & Sweets – wine and hors d'oeuvres
Sweet Annie – free gift with $15 or more purchase, refreshments, door prizes
The Green Owl – holiday workshops, food & beverages, giveaway basket valued at $250, "meet the artist," and live music
The Monkey Barrel – special pricing, refreshments
Wright's Bikes – learn how to transform your bike into an exercise machine; learn how to fix a flat tire
See you downtown!