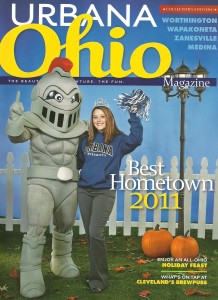 The November issue of Ohio Magazine is out, and Urbana is on the cover! Five versions of the magazine have been printed–each featuring one of the five regional Best Hometowns selected by the editors of the magazine.
Our cover features  Urbana University mascot Nitro the Knight and  Homecoming Queen Moriah Makarius.
Urbana, Best Hometown of the Southwest Ohio region, also will be featured in two issues next year.