Election Day is only a few days away: I'll get right to the point.
Voters in Champaign County, Ohio, have the opportunity to support a priceless community treasure by voting for one of the best—if not the best—returns on your tax dollar.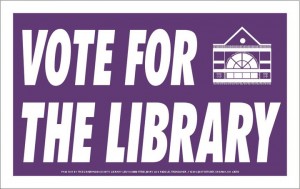 That is, the Champaign County Library tax levy. For the owner of a house with an appraised value of $100,000 the cost of the levy is only $24.50 a year.
I'm not knocking bookstores or other media stores…. Books, CDs and DVDs are worthy purchases and make cherished gifts. But if you walk into one of these establishments with twenty-four dollars and fifty cents, you won't be leaving with a whole lot. Not compared to what you can walk out of a library with.
Let's say you go to the library once and check out an adult bestseller, a DVD and a children's book. Not much. Nonetheless, at a store you'd be exchanging those items for about $60.
At a library you just take them home, having opened your wallet or purse only to extract your library card. Then you return to exchange those items for more.
These days, when disposable income is limited, the library's value has increased. People out of work or living on a tighter budget cut expenses like Internet service and newspaper and magazine subscriptions. But they can come to the library to read the papers or search job sites and check e-mails on public computers. In 2009 the Champaign County Library's public computers were used 24,151 times.
Libraries across the state have come upon hard times themselves. As a result of state funding cuts, the Champaign County Library—which includes the North Lewisburg Branch Library—is  operating on $276,000 less state money than it did in 2008. More cuts are anticipated in 2011. Staffing has been reduced, raises eliminated, employees who resign are not being replaced, weekly operating hours have been cut from 60 to 52.
Just when people need libraries more.
On Tuesday, Nov. 2, vote for a good investment. Vote for the Champaign County Library.
(In the interest of full disclosure, my wife, Kay, is on staff at the Champaign County Library.)
What services do you use at your public library?