As you'd probably expect, the Mid-Eastern Regional Fly-in (MERFI)—September 11 and 12 at Grimes Field in Urbana, Ohio—will feature airplanes.  In fact, lots of airplanes. About 350 experimental aircraft in all!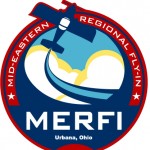 But it's not all about flying machines.
Among the stars of the show are flesh and blood heroes. As young men, they put their lives on the line for our freedom. Just a thin skin of aluminum and skeletal framework separated them from mortal injury.
Our time to hear their stories firsthand is ticking.   So, don't miss the opportunity to meet six of these brave members of the "Greatest Generation"—all of them B-17 crew members—at MERFI.
They'll share their experiences and answer your questions at 2 p.m. Saturday, September 11 in the conference room of the Champaign Aviation Museum at Grimes Field.
Also at MERFI, you can check progress on restoration of the Champaign Lady B-17G at the airport. It'll help you picture where the veterans were stationed in combat. Restoration of the aircraft's ball turret, a cramped Plexiglas® sphere where a gunner sat, slung from the belly of the plane, is now about 75 percent complete.
Since the restoration began in 2005, nearly 80 B-17 veterans have stopped by Grimes Field to check on the project and amaze the volunteers with accounts of their missions.
Decorated Hero
Early on I had the pleasure to meet and interview Art Kemp of Bellefontaine, Ohio, a tail gunner who flew in 35 missions against the Nazis from June 21, 1944, to February 1, 1945. He earned the Distinguished Flying Cross on July 28, 1944, after his group dropped its bomb load on an oil refinery in Merseburg, Germany, and came under attack by German fighters.
Two gunners in his crew were killed, a hole was ripped in the bottom of the plane, both wings were badly shot up, and two of the four engines were disabled, and a third leaked oil. But Mr. Kemp shot down two of the attacking fighters, and the plane stayed aloft for the 500-mile flight back to Polebrook, England.
"After we landed, Glenn Miller's band (at Polebrook to entertain the airmen) came out and looked at our plane. They kept asking us how we got back," Mr. Kemp remembered.
"If we'd been on a B-24, we wouldn't have made it back. But B-17s could do that."
Now he can tell us about it 66 years later.
More About MERFI
Hours: 9 a.m.-5 p.m. Sat., Sept. 11; 9 a.m.-3 p.m. Sun., Sept. 12
Admission: $5; under 12 free
Featured events:
Yankee Warrior, the only B-25 DG combat veteran still flying in the world, will fly in Saturday evening. Rides will be sold during MERFI and flights will take off Sunday
Tour the Champaign Aviation Museum, the B-17 restoration project, Grimes Flying Lab Foundation Museum and the Flying Lab Foundation's second Twin Beech restoration project
Ladies for Liberty concert Saturday evening, featuring music in the style of the Andrews Sisters
A NASA display
A presentation for students by teacher in space Chantelle Rose of Graham High School
Kids' activities including photos in a 1946 Piper J-3 Cub and Douglas C-47
Presentation by an FAA safety inspector who served with the U.S. Air Force's Thunderbirds
For the complete schedule: visit www.merfi.com